STEPHEN MINISTRY
Stephen Ministry was started by Pastor Kenneth C. Haugk, in 1975 in St Louis as he realized that he could not provide the nurturing help his Lutheran congregation needed by himself. Stephen Ministry has expanded to all 50 states and more that 20 countries ,more than 120 Christian denominations participate in this ministry.
Stephen Ministry is a caring ministry that changes lives. It is designed to recruit, organize and train people in participating congregations to be lay ministers. These ministers give one to one confidential care to people who have gone through losses, hospitalization, divorce, discouragement, loneliness, death and other issues.
Stephen Ministers receive 50 hours of intense training and participate in continuing education throughout each year. They are compassionate, trustworthy, full of faith and skilled. The Stephen Ministry Team at San Gabriel Presbyterian Church, represents 83 years of experience and consists of 10 active Stephen Ministers and 1 Stephen Leader.
Here are some reasons why people in our church became Stephen Ministers:
A call from God during my single days.—Jim N.
I am a good listener and wanted to learn additional skills to help people.—Peggy F.
I was involved in a prayer ministry and interested in being on on one in order to help others going through difficult times with compassion and prayers. —Mary C.
I realized it was a chance to give back to my church and community by helping people who were in pain.—Linda N.
I wanted to be involved in this ministry to reach out to those who are hurting and give them support on their journey—Karen M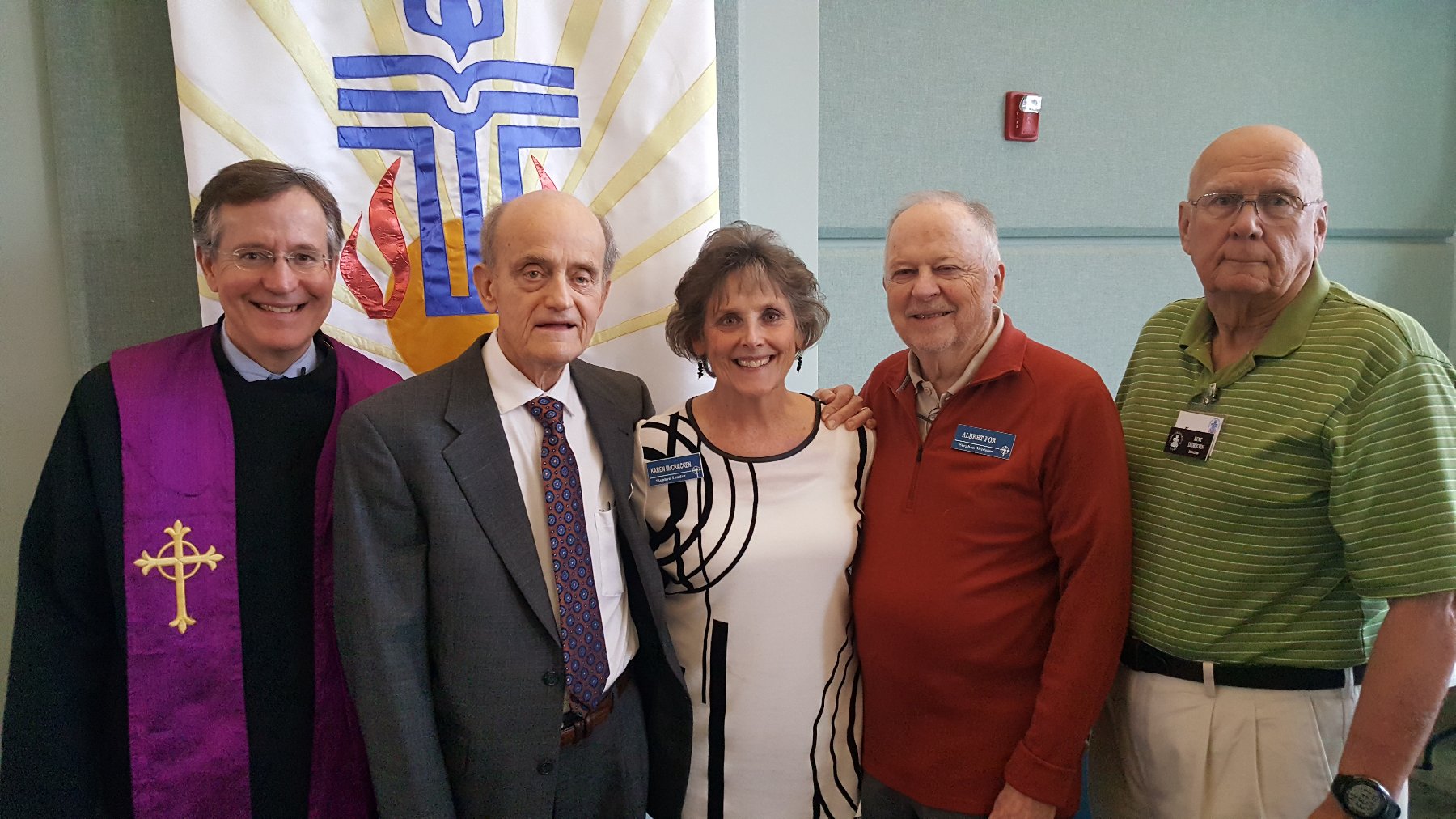 ---

---


THE CARING PLACE
---
---
MEALS ON WHEELS
San Gabriel partners with Wellspring United Methodist to deliver meals to our homebound seniors. SGPC/Wellspring is one of 10 groups that take one complete week every 10 weeks to provide hot meals in the Georgetown area on 12 routes. Ideally, 2 people drive a route. That means on any given week 120 volunteers deliver food, conversation and smiles to some wonderful people.
The main purpose of the Meals on Wheels program is to provide nutritional support to enable seniors to remain in their homes as long as possible. This one, hot, balanced meal can be the difference in recovery from illness or maintenance of health. It is frequently the last resort for staying in their homes.
We begin our delivery day at the Madella Hilliard Neighborhood Center, located at 803 West 8th St. Meals are ready between 10:15 AM and 10:30. Most of the routes take about an hour to deliver. When all meals have been delivered, you return to the center to turn in your containers, notebook and sign out.
The Coordinator for SGPC is Ann Weir. For more information on receiving Meals on Wheels or to sign up to be one our fabulous bearers of food and friendliness, give Ann a call or contact the church office.
---
---
BACK PACK BUDDIES
The Georgetown Backpack Buddy Program is designed to meet the needs of hungry children at times when other food resources are not available, such as weekends and school vacations. Serving all schools in the Georgetown ISD, San Gabriel was pleased to adopt Cooper Elementary as their "Buddy" school.
The Backpack Program is a national initiative of Feeding America, the Nation's Food Bank Network. In Georgetown, it provides a bag of food (5/6items) primarily to those children eligible to receive free or reduced-priced school lunches and to those who are at risk of going hungry over a weekend or school holiday.
Each Wednesday morning volunteers meet at the Old Carver School (across the street from St. David's Georgetown Hospital) to pack bags of food and then deliver the bags to Cooper Elementary. Packing the bags usually takes 30/45 minutes and delivery to Cooper another 20/30 minutes. Currently there are approximately 100 plus Cooper students receiving this food each week throughout the school year. Volunteers will usually be assigned one Wednesday a month to help with the packing/delivery process. Each Wednesday the volunteers who are packing will decide who will deliver the food to Cooper. The containers of food normally fit into a mid-size SUV. For more information about Back Pack Buddies or to become a volunteer, please contact Sherrill McCullough or contact the church office at sgpcoffice@gmail.com. This is a fun
and worthwhile way to help the school children of Georgetown and to get to know other members of SGPC in the process!